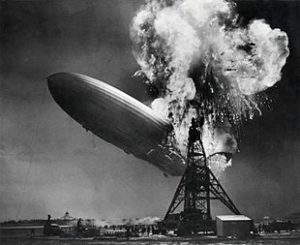 Pastor Russell Edwards
September 3rd 2017
Psalm 23    2 Corinthians 4:8-10,16-18
 On May 6, 1937, as the German passenger airship LZ 129 Hindenburg slid slowly across the skies of lower Manhattan, thousands of people rushed into the streets to catch a never-before-seen glimpse of its massive size and eerily quiet graceful movement.  Afternoon thunderstorms had delayed her landing at a Lakehurst, NJ airfield by hours and just as she was mooring in a light rain, something, which has never fully been resolved, caused the world's largest airship to burst instantly into flames.[1]  The emotionally overwrought words of broadcaster Herbert Morrison were caught forever as he reported live for radio station WLS in Chicago, describing the tethering operation of the giant ship, he suddenly exclaimed, "It's burst into flames!"  In less than a minute the entire ship was engulfed in a firestorm and crashed to the ground; Morrison can be heard exclaiming, "This is the worst of the worst catastrophes in the world! Oh, the humanity!"[2]  Morrison was so shaken he could not continue and had to stop to compose himself.
The worst of the worst catastrophes in the world; despite its horror, the numbers of those who perished and who were forever scarred could hardly be categorized as the worst of the worst of humanity's disasters, but the impact as Morrison watched helplessly as nearly a hundred human lives perished in front of his eyes, moved him and those listening on the radio, in a profound way.
Considering the events which were occurring in southwest Texas this week, you may not have even been aware that on Tuesday (August 29th) our nation marked the twelfth anniversary of Hurricane Katrina, one of the worst of the worst natural catastrophes to occur in our country.  John LeVoi remembers.  But he does not use words like 'worst of the worst' as he told his story to a reporter from the Public Radio news program All Things Considered, from a hotel where he and his family had escaped the still rising flood waters of Hurricane Harvey; a hotel which itself had become an island isolated by the flooded streets around him.  This is how he described his situation and his memory of twelve years ago this past Tuesday:
"Water rising, wouldn't wish this on anyone.  Not waiting for a boat to get off the roof."  LeVoi was 18yrs old when Katrina struck, the levees failed and he and his family were plucked from their rooftop.  "Like déjà vu; the area where we were staying (in Houston) is completely under water but we were able to get like memories out this time, because that's what we didn't save in New Orleans, because that's what you can't replace, no matter what."  LeVoi was worried about his mother who was staying across the flooded roadway, in another hotel.  Their family had been among the 250,000 Katrina refugees who were sheltered in Houston in 2005; as many as 40,000 of those refugees never returned to their homes in Louisiana.  The LeVoi family was one of those who stayed to build a new life.
"That's another hard thing,(LeVoi says) it's different when you go to another city or state where you may have family already, but when you move to a city or state where you know no one – that's different.  But we did it, yeah we did it.  It's a miracle…  ya jess gotta figure it out, no other way around it; ya gotta pray, stick together, keep your head up and just get through it."  These were his words of advice for the hundreds of thousands of fellow Houstonians who are just beginning the trek John LeVoi and his family made twelve years ago.[3]
You've seen the photos, the video and heard some of the rising numbers, but maybe you haven't really had the time to follow the disaster which has been unfolding for the past eight days in Texas.  It's also possible the horrific mudslides occurring at the same time, which have killed over 500, and left another 150 unaccounted for in Sierra Leone in West Africa, a nation which only last year began to emerge from the terrible impact of Africa's Ebola outbreak, haven't been a priority for you; maybe similar mud and rock slides which swept away houses and killed many in Switzerland over the past ten days also escaped your radar.  Maybe you hadn't realized that video from the flood conditions in Mumbai, India, Bangladesh and Nepal reveal the same kind of human disaster, occurring on the same day John LeVoi spoke with reporters about the anniversary of Katrina.  And if not, then it's likely these catastrophes haven't moved you to exclaim, "Oh, the humanity!"
And if you haven't been as aware of these events as you might be, maybe it's not because you are cold and uncaring, or because you are insensitive to the needs of others, but because your attention has been riveted on disasters occurring in your own life, and in the lives of people – family close to you.  Maybe your focus has been on how you (or they) are going to see the doctors you've got to see – who is going to pay for those doctors – and what the test results you're waiting to get back are going to tell you about how your future in the short-term, and long-term, is going to be altered from what you had taken for granted.  Or maybe this disaster is new… maybe the crisis in your life this week, is just another in a long string of crises whose heavy load you have been carrying so long, that instead of exclaiming, "Oh the humanity!"  You are crying out, questioning, "How long, oh God? How Long?"
The things which we consider tragedies in our own lives, take on their tragic character in the way we view and handle them.  Adversity is part and parcel of our humanity.  Peter writes to Christians in communities scattered far and wide, causing them to feel isolated, to encourage them by reminding them of God's true grace, saying, "Do not be surprised at the fiery trial when it comes upon you to test you, as though something strange were happening to you."[4]
Maybe the flood waters of the pain and suffering in your life have been slowly rising, lapping at your doorstep and threatening your sanity and your life, for so long that it is difficult to hear John LeVoi's advice to 'keep your head up' as words of encouragement, as a promise of hope.  But LeVoi is right, in the face of crisis you have to just keep praying, and keep going.  The crises that threaten, although looming large, are not unique.  Our lives are comprised of a series of events; events which we must face head on; some bring joy while others bring what we can only see as disaster; and no one wants to face those things alone.
The famous jazz saxophonist Cannonball Adderley introduced one of his most recognizable recordings with these words: "Ya know, sometimes we're not prepared for adversity, when it happens sometimes we're caught short.  We don't know exactly how to handle it when it comes up.  Sometimes we don't know, just what to do when adversity takes over.  Well I have some advice for all of us, and it sounds like what you're supposed to say when you have that kind of problem… it's called  'Mercy, Mercy, Mercy'."
The Apostle Paul, no stranger to the kind of suffering he writes about, knew about adversity… having been arrested and imprisoned, beaten with lashes and rods, suffered cold, hunger, thirst, shipwrecked and adrift, he tells us we all endure adversity – all afflicted in every possible way, beaten and persecuted.  A look at our weekly prayer list is evidence that we have, each one of us, been at the precipice (if you have not, you one day will be); the things that bring us to that point may resemble fireballs that threaten to consume us in an instant, or appear as rising flood waters, slowly overwhelming our ability to function.  But Paul writes that we don't need to struggle through them alone.  We are being pressed from all sides, but don't need to feel the crush alone; we are knocked down but not out; persecuted, but we never have to endure it alone; we are left wondering when or if it will finally get better, but we don't need to despair alone, if – if we keep our faith that God will not desert us.
If we keep our faith in God, God will not let us wander through the burning desert, nor struggle through the flood – alone; God will not let you suffer the loneliness of exile – alone.  God will not let you face the uncertainty of doctors' pronouncements, nor allow you to endure the treatments, alone.  Paul tells us that even in your "worst of the worst catastrophes" if you keep your faith, God will not abandon you.  We may feel you are in, what the Rev. Dr. Thomas Lane Butts, Minister Emeritus of First United Methodist Church in Monroeville, AL describes as the "basements of our soul", and you question, "How long, oh Lord, how long?" but you are not alone.[5]  God, as the Psalmist writes, has your 'back', God will care for you.
That is not to say that all your storms will suddenly clear, and there will be rainbows and blue skies; it does not mean that the X-rays and CT scans will miraculously be clear, nor does it mean the overwhelming pressures on your life, which you have previously dealt with through destructive behaviors and patterns, will instantly be lifted.  It means that you will be equipped to see and deal with the challenges and adversity everyone faces in their lifetimes.  It means you will have a new vision to make decisions, with your faith as the lens through which you see all things, and the assurance that God is there with you.  It means that regardless of the outcome, you will come out the other side, with Him.
—  Amen  ―
[1] https://en.wikipedia.org/wiki/Hindenburg_disaster#News_coverage
[2] https://en.wikipedia.org/wiki/Herbert_Morrison_(announcer)
[3] http://www.wnyc.org/story/12-years-later-harvey-traps-hurricane-katrina-survivors-in-houston
[4] 1 Peter 4:12 (NIV)
[5] The University of Adversity, http://day1.org/916-the_university_of_adversity