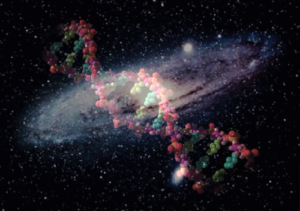 Pastor Russell Edwards
June 18th 2017
Genesis 1:1-2:2      Psalm 8:1,3-8
Last fall I had an opportunity to revisit the Vermont studio of artisan glass blower Michael Egan, and watched as he begins with a tiny lump of molten glass particles, spins and blows, adds colors, cools and reheats and cools and reheats, to skillfully create gorgeous globes of glass, while we talked at length about his craft verses his art; I find the creative process of glass blowing mesmerizing.  I discovered that glass blowing has some remarkable parallels to a potter turning clay, when I watched a video one of my daughters posted on Facebook this week, which follows another artisan as he creates stoneware pottery from a handful of wet clay.  My daughter studied pottery-making in high school, and some twenty-plus years later, clearly feels its creative pull on her artistic side… and for good reason; it too is fascinating to watch, as the potter takes a lump of mud, and with skillful, artistic hands works it, shapes and reshapes it, bakes, glazes and paints it, and eventually produces a piece of pottery, which is both functional and beautiful.  If you have ever noticed the plate and chalice as we share the banquet of the bread and cup, this is exactly how our communion ware was formed.  Debra Ocepek, a potter in Illinois, with similarly talented hands, turns clay on a pottery wheel to produce the communion challises, patens and pitchers by hand, that we use each communion Sunday; she has dedicated her creativity to the communion meal… it is the only pottery she creates.
Only days before my daughter posted that video, I visited the museum of another sculptor, a sculptor whose hands were considered among the most talented the world has ever seen, French sculptor Auguste Rodin  in Philadelphia.  (If you are my age it's possible you were introduced to Rodin through the unlikely avenue of the early 1960's sitcom The Many Loves of Dobie Gillis[i] where each episode Dwayne Hickman (Dobie) would break from character and speak directly with the audience, usually standing in front of Rodin's statue The Thinker – that statue stands in front of the Philadelphia museum.)  Rodin's accurate depiction of the human form earned him the acclaim of the art world at the turn of the twentieth century, and Rodin's Thinker remains one of his most recognizable works.  But to the more informed follower, his intricately precise recreations of the human hand remain some of his finest works.
Comparing the art of sculpture to the divine process of creation, Rodin once said, "When God created the world, it is of modeling he must have thought first of all."  In his work, The Hand of God, (which appears on our bulletin cover), Rodin realizes this metaphor in sculptural form; God's hand cradles a rock from which male and female figures emerge.  It is speculated the two represent Adam and Eve or simply "man" and "woman."[ii]
If you have ever had the opportunity to observe a creative individual at work, the discipline or medium is irrelevant: sculptor, glass blower, writer, painter, or composer… and it is equally true of a someone in a non-traditional setting: a landscaper or someone tying fishing flies(creativity is not confined to artists), it would not be unexpected to observe them pause every so often in their work, to assess or "take in" how their creation is developing, before taking the next step.  The act of creation is a process; it is an imagining and re-imagining, working and reworking; a sweating, often pains-taking process until its completion – and there are some creative processes that are never complete.  Rodin worked for thirty-seven years on the defining project of his career, a pair of bronze doors titled The Gates of Hell, continually adding, removing and altering more than two hundred human figures; delegating the production aspects of his large sculptures so he could focus on conceiving.[iii]
We read the author or authors' account in Genesis 1, of God speaking creation into being… God spoke and there was light – then paused, stepped back to evaluate, and determined it was good, and because the light that God had created separated light from dark – it was the first day.  And God spoke the sky into being – then paused to evaluate, and determined it was good – and it was the second day.  And God spoke the dry land – Earth, and paused to see that it was good; and spoke the trees and plants and fruits into being, and paused to see that they were good – and it was the third day; and on with the fourth, fifth and sixth – the heavens, the fishes and every kind of wild animal and bird.  And seeing it was all good, but not complete, God created humankind in God's image.  And God paused, examined it all, and finding it very good, rested.  The author imagines it as God's voice, Rodin portrays it as an omnipotent hand.
Despite its literary form of 'day one – day two – seventh day,' Genesis 1 was not written to be read as a chronological, snap-of-the-finger-into-being account of things; nor was it meant to be forever understood through the limited and limiting scope of knowledge of an Israelite around the time it was written, around 587 B.C., long after Noah, Abraham, Moses and David.
Somehow – somewhere along the course of theological development, the narrative of "creation" got confused with the rhetoric of "creationism" and became a "hot-button" topic, and no one who wanders into that discourse is immune to its heat.  And I'm not really sure why that is -; it is certainly not scripturally based.  Creationism has become the battle cry of those who adamantly reject the theory of the Big Bang, a theory which ironically was conceptualized in 1927 by a physicist who was a Jesuit priest, to imagine how God spoke the cosmos into being… like Rodin's hand, Monsignor Georges Lemaître envisioned the 'bang' as the discipline in which God's creative process worked; his theory presumed that there is a God who is responsible for the so-called bang.
Genesis 1 is not a biblically-scientific time-line but a poetic statement of faith about who we are, who our God is, and how we fit into the great cosmic picture.  Originally penned to remind a Jewish population, which was mired in despair and doubt after being conquered and driven into exile, of the mighty power of the God who called them 'chosen'.  If this God could speak the universe into being, could create the heavens and earth, the oceans and all life forms, wasn't that sufficient to place their faith in his protection?   Today we read it for much the same reason; not because we have been geographically or physically exiled but because there are forces in this world that are continually driving us away from God's grace… and we need to be reminded that our God is mightier than anything that challenges us.
If we are able to shed all the preconceived notions which clutter up our theological understanding, and be comforted in reading the account of the creation of the cosmos in poetic terms, we can see in God's handiwork, the intentional precision of the glass blower, the deliberate attention of the potter, the bold expressionism of the sculptor, and the unleashed force of the abstract painter.  This is still a mighty God at work, creating order out of chaos, creating the intricate, the miraculous, the exquisitely beautiful.
Genesis 1 says, God paused repeatedly in the process and on the seventh day rested… 'rested' means God is not done creating!  If you had any notion God was done creating, I'd remind you of the green that blossoms forth from the earth to feed the multitude of God's children; if you had any theory that God was satisfied with the status quo, I'd invite you to gaze upon the awesome specter of molten lava spewing into the sea from deep within the core of the earth… if you had any idea that God's voice of creation was quieted, I'd invite you to listen as a newly born infant bursts forth with their personal announcement to the world that they have arrived.
If you have any fear that God has ceased creating, I would remind you of these words from Isaiah, "Do not cling to events of the past or dwell on former things.  For I am about to do a new thing"[iv] echoed by Paul, "Therefore if anyone is in Christ, he is a new creation. The old has passed away.  Behold, the new has come!"[v]  If you place your faith in God, God will do a new thing in you… God will fill your empty voids and create order from the chaos that's been dogging your life for what seems like all time.
—  Amen  ―
[i] http://www.imdb.com/title/tt0052490/
[ii] http://www.rodinmuseum.org/collections/permanent/103446.html?mulR=992440502|119
[iii] http://www.rodinmuseum.org/explorethemes.html
[iv] Isaiah 43:18-19
[v] 2 Corinthians 5:17