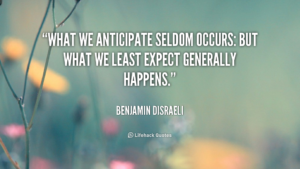 Pastor Russell Edwards
December 11th 2016
Psalm 146:5-9      Luke 1:49-55     Matthew 11:2-6
 Yes, it's definitely getting to look a lot like Christmas. The Church makes a point of saying Advent and the secular season of Christmas are not the same.  Shakespeare wrote in Hamlet, "Methinks thou dost protest too much;" I personally think we get a little too insistent that the secular Christmas is encroaching on our religious celebration.  It is true that because they share the same name, and fall on the same date, that the world (and often we ourselves) can get a little confused.  But if we were able to see some separation and regard the two celebrations as entirely different holidays we could enjoy them both equally, because in as much as they are both supposed to be a time for anticipation… a time of preparation, they have a unique similarity.
The sanctuary has been decked out beautifully following last week's pot luck lunch; holiday lights are everywhere you look, Christmas concerts are scheduled, and this past Monday evening the town celebrated the annual tree lighting while the high school band played and hot chocolate was served, and even the weather forecaster tells us, by tomorrow we are likely to have a fresh blanket of snow, which has a way of covering all the 'rough edges'.  There's no denying, it is getting to look like Christmas isn't it?
I was struck this year, and even texted a photo to my daughter in October, of Halloween and Christmas decorations – set up side by side in one of the big stores… that, for me, is just a little too early for Christmas.  But even those who completely immerse themselves in the secular season's activities complain that each year "Christmas" is begun earlier and earlier.  There are really two forces driving this rush to Christmas; the first is our desire to have a spirit-lifting escape from the realities of our everyday doldrums and difficulties, a way to tune out all the stuff that drags us down.  A very large, even central, component of the secular Christmas celebration is built around escapism.  We tell fairy tales to our children, and to ourselves, to create that 'other' world, and all the lights and tinsel, etc. etc. reinforces that world.  And what better way to escape our doldrums than to fuel the second force – the retailers and manufacturers desire to fill their coffers by expanding the season of wild (and unwise) spending.  I have found (at any time of year), that one quick remedy to distract my attention from the more sobering and depressing things going on in my life, was to run out to a store and purchase something; (I doubt that I'm unique, maybe you know what I'm talking about).  And if by chance my spending becomes a source of depression itself, why the antidote to alieve those guilt feelings, is to spend some money on someone else.
The secular holiday is all about the hype, the anticipation – and if it is working, which it obviously is – it is only natural to want it to go on as long as possible… so let's start the holiday earlier and earlier each year, and why not also extend it all the way through the New Year celebration… in fact, why not extend it for a full twelve days.  When you think about it, other than the Santa Claus thing for children, the holiday is not really about the event, it is about the season itself.  But if that be true, then the question looms… what are we building to?  Carly Simon wrote, "Anticipation: is it keeping us waiting, or chasing after a finer day."
Maybe we Christians should reexamine our criticisms of the secular holiday; we might find that we are a bit too self-righteous because our Advent is a season which is devoted to anticipation.  The word itself is derived from the Latin word for 'coming', (in the future tense), but instead of anticipating the coming event Christ's birth, we begin our buildup with our anticipation of his return – talk about 'keeping us waiting.'
It is not very often that I include three scripture readings as the foundation for our worship meditation, but I did so, with obvious intent today, because there is a common thread which runs through them.  The three are taken from very different times; the first are words written roughly around the time of King David, (although it is not attributed directly to him), and is one of what are referred to as the "Hallelujah psalms."  The second, spoken some 28 generations after King David, are Mary's words of praise for God, taken from what we call the "Magnificat", when she relates to her cousin Elizabeth that God's spirit has come upon her, and she bears His son.
The final reading is a discourse between John the Baptist and Jesus.  It had been only a short time earlier when John had humbled himself, praising Jesus as the one who would baptize with fire, and that he was not even worthy to stoop and untie the leather bindings on his sandals.  Now sits imprisoned for speaking the truth to Herod, wondering what happened to this messiah who was supposed to restore God's justice in the world.  His praises, which had so recently been extravagant, were no longer present, as he sent a group of his followers to put the question to Jesus, 'was he the one, the true Messiah, or must they continue their wait for another?'
With praise being absent entirely from the third scripture, where is the common thread in the three readings?
Let's reexamine them.  The psalmist lavishly praises his God who has made heaven and earth, made the sea, and everything in it.  He praises a God who is faithful; who executes justice, who gives food to the hungry, a God who sets prisoners free, opens the ears of the deaf and makes the blind see, a God who cares for strangers, and the marginalized – the orphans, widows, and those who are bowed down; but also a God who passes judgement on the wicked.  Mary's words sound very similar, though not as wordy, as she tells Elizabeth her God has scattered the proud, has brought down the powerful from their thrones, and lifted up the lowly; fills the hungry and sends the rich away empty.  Her God has stood by Israel, and has been faithful to the promises made to their ancestors.
In both of these scriptures, spanning a thousand years or more, neither Mary nor the psalmist speak of a God of the future; both talk about a God who is compassionate, just and loving, who is acting in the world in the present tense.  God is… God has… God does, God is at work.
It's beginning to look an awful lot like Christmas… and we might allow ourselves to be drawn into, and even welcome being swept up in that fairy tale Christmas… by the trees and the shopping, by the spending and over-spending and over-indulging, by the pressing need to tackle the Christmas card list – or the guilt of letting it slide another year.   Or we might be distracted by the very real and often depressing world issues… the horrors of a fire in Oakland which took the lives of 36 young people; of two toddlers killed by a heating accident in an apartment sheltering a homeless family; by the announcement earlier this week that two juveniles have been charged with arson for the Tennessee fires that resulted in the deaths of 14; by the frequent announcements that we continue to execute prisoners in our jails at an alarming rate; by the daily reports that come out of war-torn Syria, of innocent civilians used as collateral pawns and tens of thousands of refugees with nowhere to go, in the complicated and deadly situation that exists in their homeland; or by the hate-inciting and racist incidents that are occurring almost daily in neighborhoods across our nation… any one of these issues might make you questionit's not about our obsession with 'what is to come', what happened to the messiah who was supposed to restore God's justice and bring peace to this world.  Where is the Joy we sang of?
Finally, in Jesus' answer to John we recognize the common thread in our scripture, and hear that it is not about the anticipation….  "Tell John that he knows the scriptures, he knows very well what the promises were… The prophecies are being fulfilled; the blind receive sight, the lame walk, the lepers are healed, the deaf hear, the dead are raised, and the poor have good news brought to them."  Tell John to look and listen to what is happening in the world around him, and the answer to his question will be evident.
It's not about the anticipation, it's not about our obsession with 'what is to come'; it's about the here and the now… what was it that Carly Simon said, anticipation will have you 'chasing after a finer day'.  The horrific things that  happen every day in this world is part of life, we cannot dispute – nor escape that, but if we look and listen, and not allow ourselves to be consumed by those distractions… we'll realize that, God is… God does, God is at work in our world… and because of that, there is joy!
—  Amen  ―